Ciara Oneal and Kaitlyn Sanchez are hosting a Spring Fling gif challenge: 150 words of less story for kids inspired by a gif (y'know one of those little picture video doo dads)
I've been working like a dog on a home improvement project (a more physical creativity perhaps) and could use a writing exercise to keep me in shape, so here goes!
Here's my gif and 150 word story.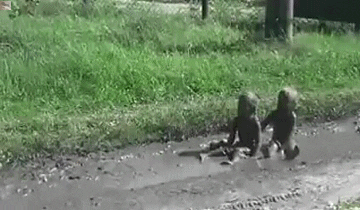 Muddy Monster
By Lauri Meyers
A muddy monster trekked inside,
With dirty pies to host a feast.
Showed the gift, but Mommy cried,
"Get out! Get out! You vicious beast!
Mother shooed it down the hall.
Confused, the creature ran away.
Stopped to hear the mother call,
"Where'd my darling daughter stray?"
The monster looked at slimy feet,
Considered grimy dripping shirt
Normal self was clean and neat-
But… a bit more dirt can't hurt.
She dug a mine for worms and gold,
Cooked a pot of mud and stewed,
Ignored her name while hours rolled
Until her belly growled for food.
She squelched up to the door, but caught:
"The monster's back! Where are you?"
She had to get by Mom, she thought,
What could a muddy monster do?
Hello hose, and goodbye mud.
Open the door, ready to lie:
"I fled a creature made of crud!
I missed you so... May I have pie?"